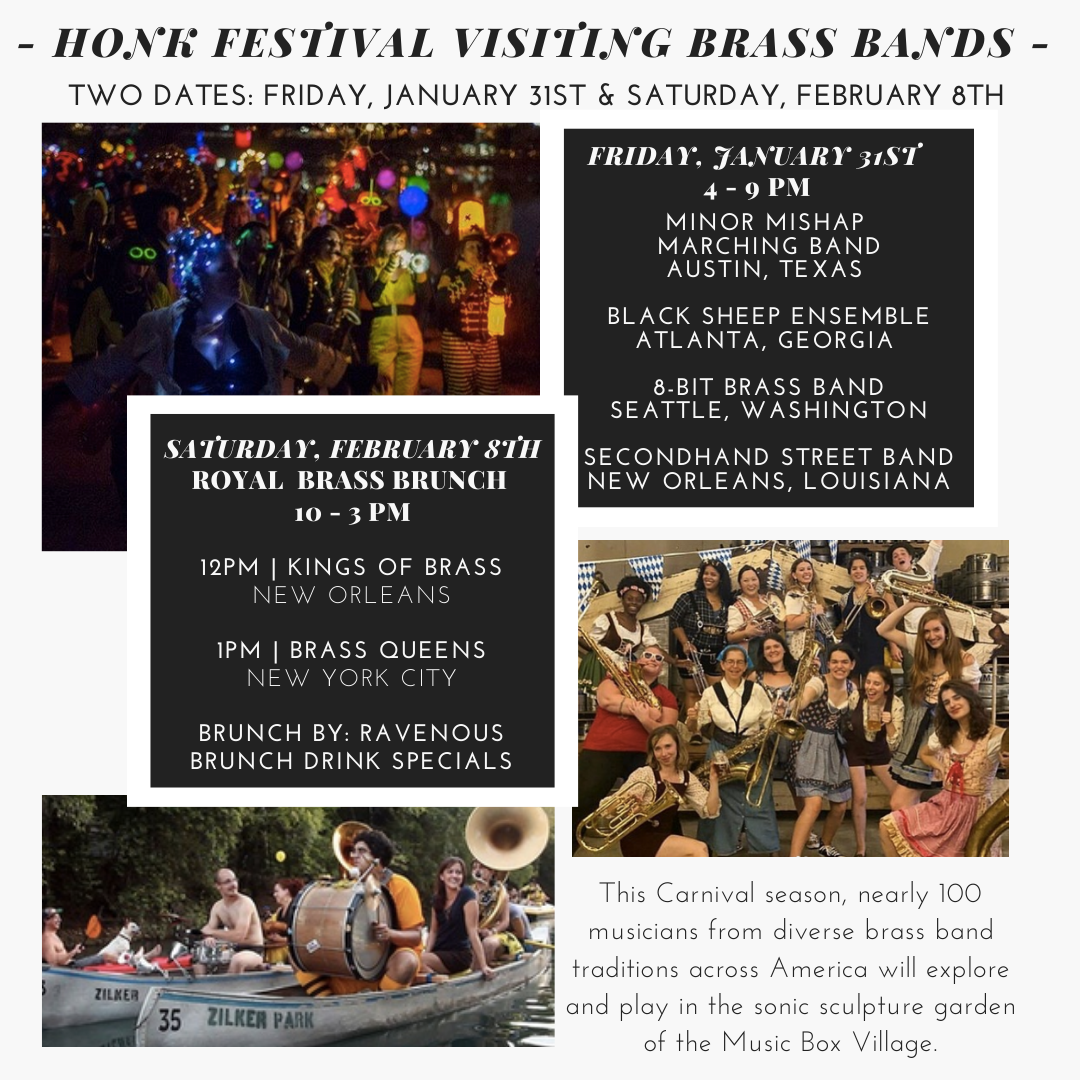 4557 N Rampart St
4:00pm
$5–$12
FRIDAY NIGHT AT THE MUSIC BOX
OPEN HOURS 4-9PM
Mardi Gras *HONK* Edition
Open Hours invite guests to explore the Village and get hands-on with our 'musical architecture.' This week, we host 4 brass bands from all over the country who are in town to march in various parades! We're excited to have them in our space- come watch or play along!
Food Popup- Street Fixe (Asian Fusion Street Food)- @streetfixnola Donburi Menu (Beef, Chicken & Egg, Tofu & Musroom)
*Mardi Gras Honk Night with:
Minor Mishap Fun, loud and in the street! Minor Mishap Marching Band (Austin, TX) is a 25-piece renegade circus-punk brass band: Bourbon Street meets Budapest. We are inspired by a love of street music, brass bands, and spectacle, as well as a desire to create community and reinvent public spaces.
8-Bit Brass 8-Bit Brass Band (Seattle, WA) is your geeky, mobile brass band specializing in bringing our brand of brassy, bangy, and nerdly to the streets and stages of Seattle — and beyond!
Black Sheep Ensemble Black Sheep Ensemble (Atlanta, GA) is a modern brass and percussion band with a repertoire that blends Swing, Jass, Balkan, Latin, Ska, Punk and more into one danceable sound. Because the band is untethered from elecftricity and amplification, the Sheep are free to roam, which can add to the element and surprise!
http://blacksheepensemble.com/
Secondhand Street Band Secondhand Street Band (New Orleans) is a collective of musicians from all over the US and abroad. With over 40 members spanning 5 or 6 countries, this group is an ever-changing assortment of entertaining street performers, who all share the common goal of bringing music, comedy, and enjoyment to those around them.