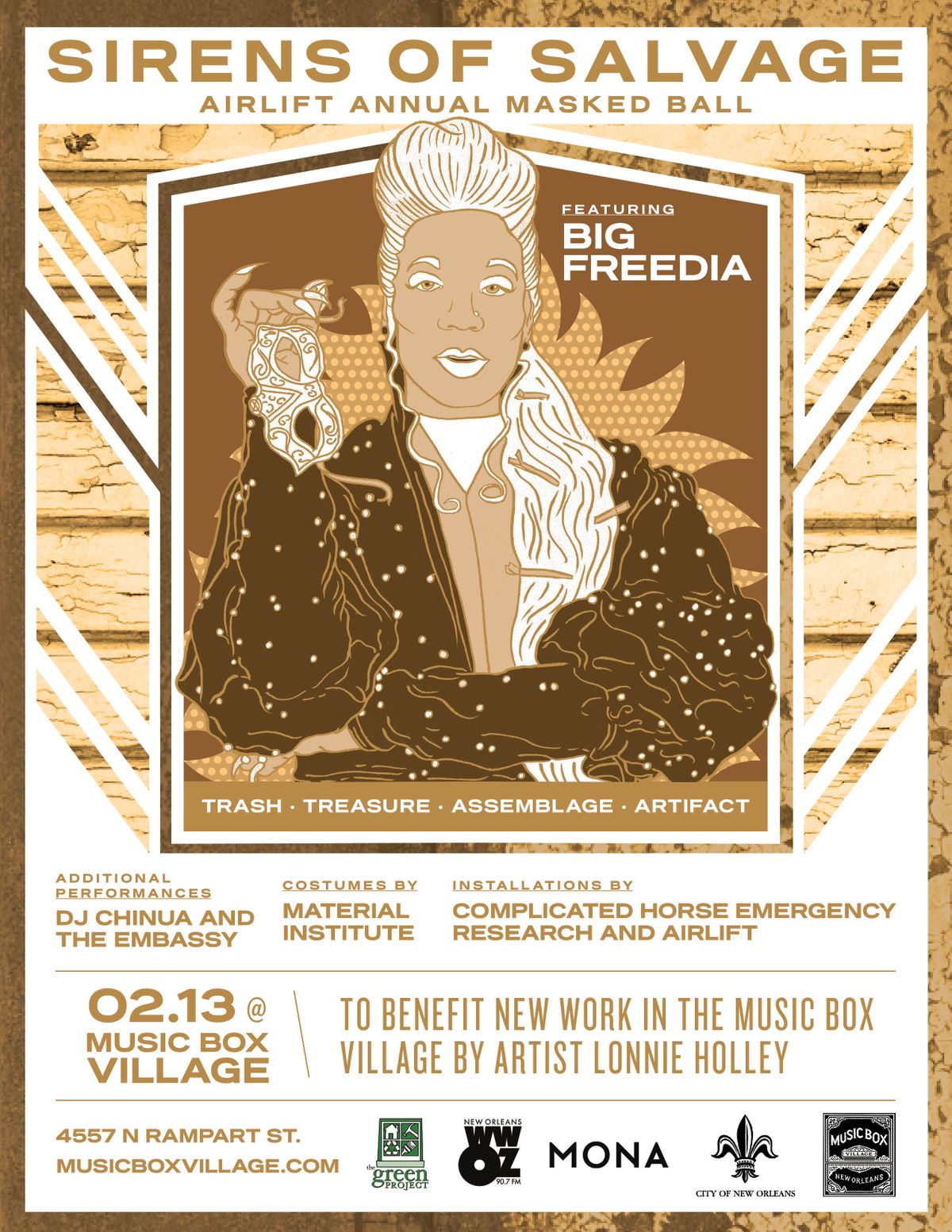 4557 N Rampart St
7:00pm
$10–$70
Sirens of Salvage Mardi Gras Ball featuring Big Freedia
7PM VIP Cocktail Hour with special performances
8PM GA DOORS
The Music Box Village opens the 2020 Spring season with their 4th Annual Mardi Gras Ball and benefit for adventurous future Music Box Village programming. Headliner Big Freedia and additional guests bring the wobble, thump, shake and jiggle to the Music Box Village this Carnival season!
This year's theme is Sirens of Salvage, exploring the deeper importance of the trash and treasure we accumulate in our lives, and masquerade is mandatory(ish) ! Guests are encouraged to re-purpose and reclaim their looks from valued heirlooms, hand-me-downs, nostalgic mementos and discarded detritus.
Special guest musical artists this year include DJ Chinua (Ascen.dance), and recording artists from The Embassy studio program who will be styled as "Sirens of Salvage"with costumes created by designers at the Material Institute. Complicated Horse Emergency Research is creating overflowing, living installations with additional visual contributions by the Airlift Creative Team and support from the Green Project!
In keeping with the theme, Airlift's 2020 Ball is held in support of an exciting upcoming collaboration with found-object artist and musician Lonnie Holley. Attendees are encouraged to bring sentimental special objects to contribute to an altar of memory that Holley will draw from for this Fall 2020 installation and performance event.
VIP Patron Party begins at 7PM with special performances and complimentary cocktails.
Ms. Linda Green "The Ya-Ka-Mein Lady" and Thali Llama will be serving food onsite all evening long.