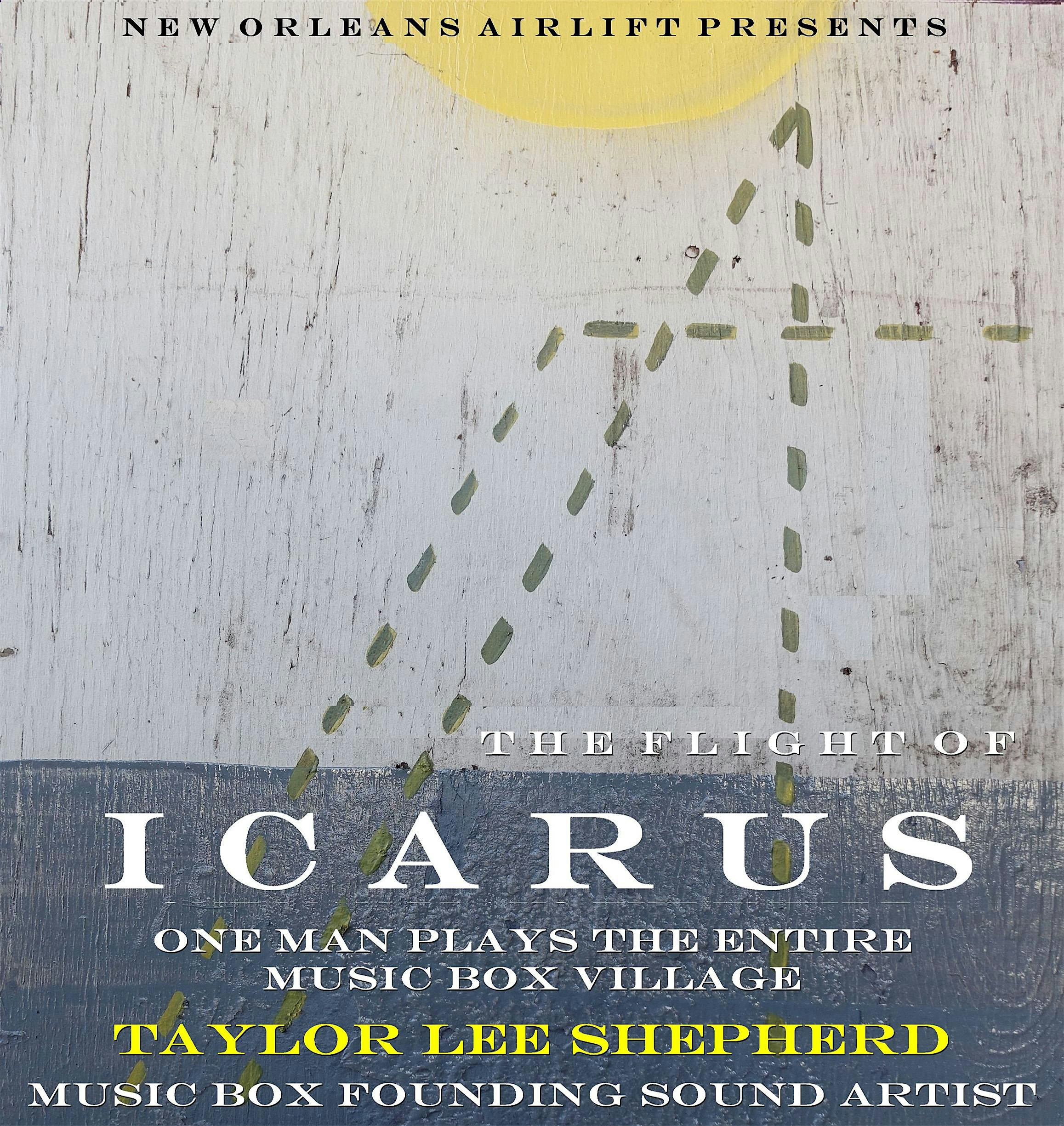 The Music Box Village
7:00pm
$5–$10
The Flight of Icarus by founding sound artist, Taylor Lee Shepherd
DOORS 7:00PM, SHOW 7:30PM
Taylor Lee Shepherd is the founding sound artist of the long-running Music Box project of New Orleans Airlift. He contributed to the original seed of an idea for musical architecture and has had a heavy curatorial and building hand at all of the project's outposts and installations along the way. At the current and now permanent incarnation, Music Box Village in the Bywater, Shepherd acts as Technical Director, keeping dozens of artists' interactive experiments functioning day to day. No one knows the Village and its potential better than he. Now Shepherd premieres an all new work highlighting the unique sonic sculptures and the installation's newest innovations. Earlier this year Shepherd installed linked looping pedals in the majority of the musical houses, allowing a single player to build soundscapes and animate the entire town at once.
Shepherd will explore the interactive sound installation through the lens of the ancient story of Icarus and Daedalus. He takes inspiration from the Peter Brueghel painting entitled "Landscape with the Flight of Icarus". Artists over the centuries have reflected on this painting including WH Auden who references it in his poem Musee Des Beaux Arts:
The expensive delicate ship that must have seen
Something amazing, a boy falling out of the sky,
Had somewhere to get to and sailed calmly on.
For Shepherd, this sentiment looms large in a world where environmental disasters and social horrors are met with seeming indifference from most of the citizens of the world. Come see him bring sonic shape to this idea as he raises an entire Village on his own with sound!