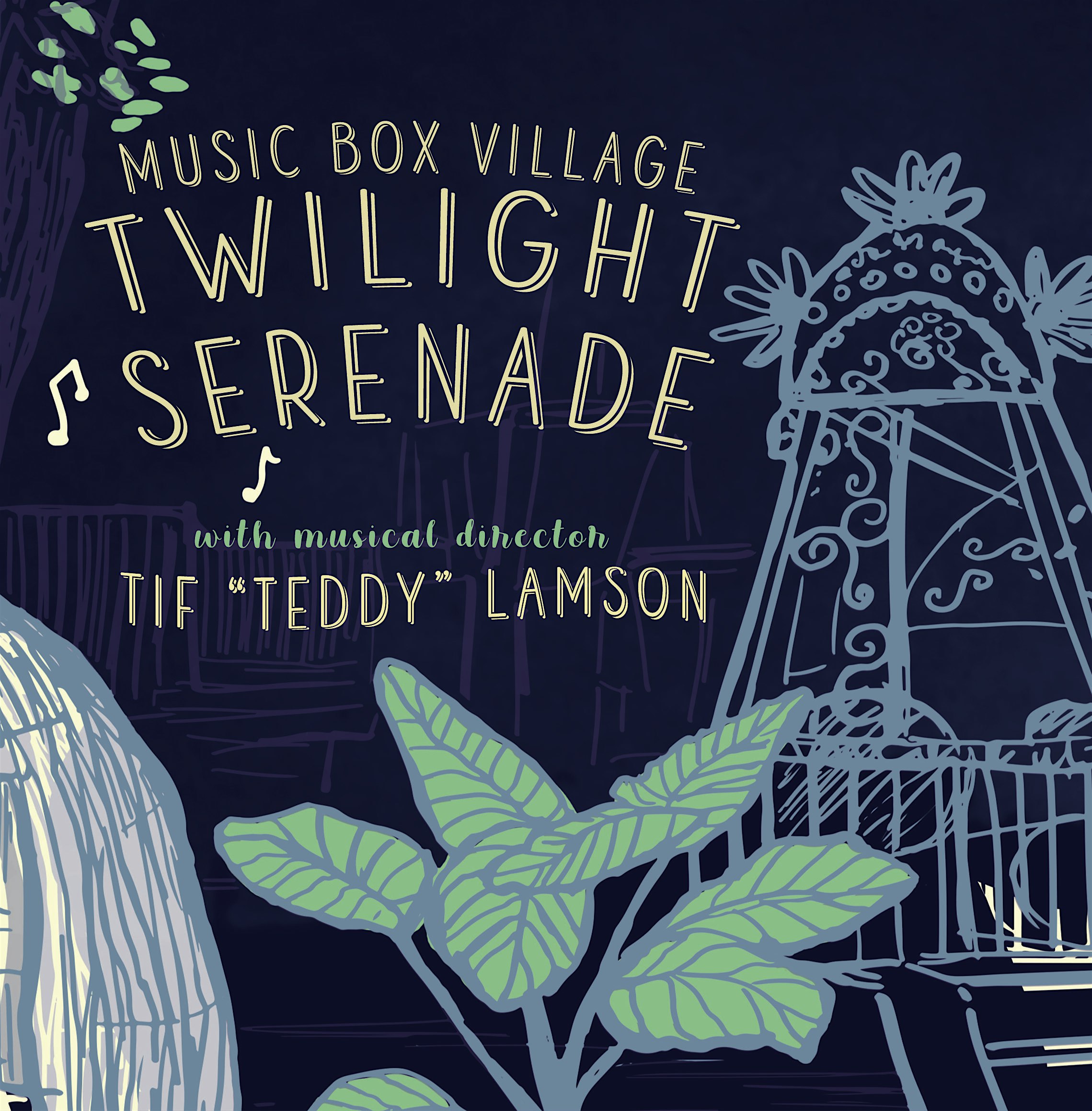 The Music Box Village
5:30pm
$20–$90
Twilight Serenade, directed by Tif "Teddy" Lamson with special guests!
DOORS 5:30PM, PERFORMANCE 7:00PM
Join us December 8th for our final Twilight Serenade of the Fall 2019 season. Twilight Serenade is a special evening where we feature the talents of local musicians in concert with the sounds of the Music Box Village. These one-of-a-kind performances, led by Tif "Teddy" Lamson (GIVERS), highlight the special sonic qualities of our installation.
This month's cast features a dynamic line-up of talents from across New Orleans' music scene: Anjelika "Jelly" Joseph (Tank and the Bangas, Galactic) , free feral, Kirkland Middleton (Lost Bayou Ramblers, Michot's Melody Makers), Cliff Hines (Rickie Lee Jones, Mike Dillon Band), and Jeremy Phipps (People Museum). Under Lamson's direction, the ensemble will orchestrate original tunes, covers, and improvisations using the musical houses of the Music Box Village.
Our Twilight Serenades also honor the culinary talents of our city by inviting local chef's to create a menu perfect for dining under the stars. This month, we are pleased to welcome Paul DiMaria of Paladar 511 and Eason Barksdale, Chef de Cusine at Bayona. They'll be offering a delicious Mediterranean/Morrocan inspired plate featuring a main course of lamb or roasted beets. Designed as a supper club experience, we offer package tickets that include a spread fit for two and a bottle of wine. Individual packages include dinner only.
DECEMBER MENU, by Paul DiMaria (Paladar 511) and Eason Barksdale (Bayona)
Chermoula roasted leg of lamb or chermoula roasted beets with spiced carrots, toasted farro, tahini yogurt, herb salad & naan